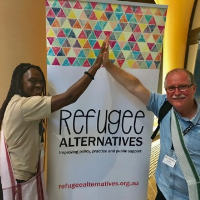 Ian Phillips and Sarah King at the recent "Refugee Alternatives" conferenceThe Sanctuary Northern Rivers Inc AGM will be held on Monday 12th March 2018 at 6pm (gathering from 5.30pm), in the downstairs room at Lismore City Library (Magellan St).
Sanctuary Northern Rivers also welcomes Ian Phillips and Sarah King who will present perspectives from the recent Refugee Alternatives Conference hosted by the Refugee Council of Australia
Agenda....
Welcome and apologies
Outline of meeting. Invitation for membership
Acceptance of Minutes of the previous AGM (2016)
President's Report
Receipt of Annual Report for July 2016 to December 2017
Receipt of Auditor's Reports for July to December 2016 and for 2017
Election of members to the Board of Sanctuary for 2018/19
Other business
Close of meeting
Sanctuary invites all our supporters including members of the resettled community, to renew or apply for membership before or at the AGM. A membership form can be downloaded here. The cost is $30 per individual, or $45 per family or institution, or $15 for students or concession card holders. Payment details are on the form.
Sanctuary invites ongoing donations for our activities, and gifts can be made via deposit to our bank account, or via the Givenow website here. Please email the treasurer if you would like to donate via cheque or direct credit: This email address is being protected from spambots. You need JavaScript enabled to view it.